Book soft cover You Never Give Me Your Money: The Battle For The Soul Of The Beatles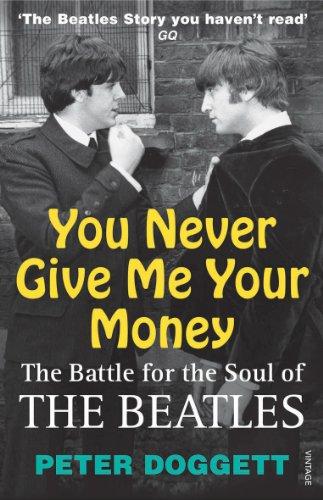 Designer: London Art and Souvenirs
Sold Out
Free shipping on selected items for limited period only
You Never Give Me Your Money: The Battle For The Soul Of The Beatles
When Paul McCartney told the world in 1970 that he had no plans to work with the Beatles again, it was widely viewed as a cultural tragedy by the media and public alike. But one of the most fascinating phases of the Beatles' story was just about to begin. 
Now, for the first time, 
You Never Give Me Your Money
 tells the dramatic story of the Fab Four post-1969. It charts the almost Shakespearean rivalry of the Lennon and McCartney families, the conflict in George Harrison's life between spirituality and fame, and Richard Starkey's efforts to conquer his personal demons. It also chronicles the transformation of their multi-media company, Apple Corps, from a bastion of 1960s counterculture into a corporate behemoth. 
From court battles to chart success, the best of rock'n'roll writers, Peter Doggett traces the untold story of a group and a legacy that will never be forgotten.
In stock for immediate delivery worldwide!
ONLY 2 LEFT IN STOCK!