RAIN PRINCESS ART PRINT ON CANVAS BY LEONID AFREMOV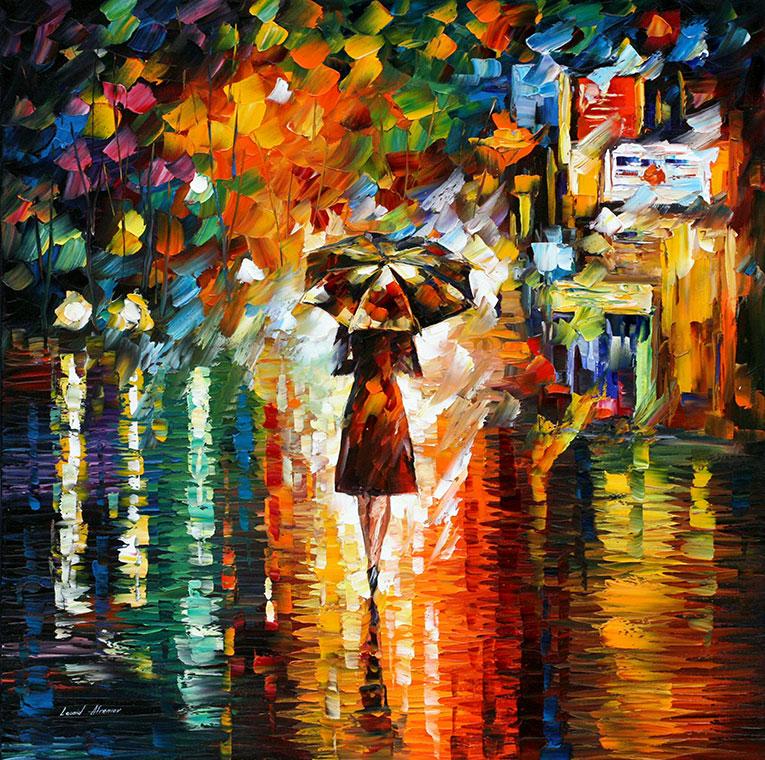 Designer: London Art and Souvenirs
$199.00 $279.00
Free shipping on selected items for limited period only
RAIN PRINCESS ART PRINT ON CANVAS BY WORLD RENOWNED ARTIST LEONID AFREMOV
 Beautiful Art Print signed by the artist Leonid Afremov with COA(CERTIFICATE OF AUTHENTICITY)
ART PRINT  comes unframed sent in a sturdy cardboard box with excellent packing (See photos)
 RAIN PRINCESS WALKING IN THE CITY
 If you are looking for an artwork that will become the most remarkable part of your interior, you just found one. There are many reasons why this oil painting catches everyone's attention.
 Equally suitable for any interior, it will fit neatly into a lavishly decorated living room, delicately illuminated bedroom and plainly designed office. Even if you are looking for any specific pictures and prints, RAIN PRINCESS will make a fine addition to your home décor.
Perfect play of light and shadow. Although it's raining, the Princess seems to be sun-lit – or maybe this is due to her inner light?
Bright colours that

 

create an optimistic mood. Such a colourful and delightful picture won't stand unnoticed.
This enigmatic ART PRINT on canvas

 

offers space for imagination, so you will find something new every time you look at it.
A

 

mysterious young woman

 

walking under her

 

umbrella

 

will be your source of inspiration if you like mysteries in artworks.
Signature

 

Signed on the front and back

Certification

 

COA signed by the artist

Size

 30 x 30 

Medium

 Art Print by 

 Leonid Afremov

Materials

 Art Print 

Canvas
Delivery times can vary 20-30 days USA 30 + days rest of the world
Free shipping on this item for a limited period only 
USE SPECIAL DISCOUNT CODE  international01  AT CHECKOUT